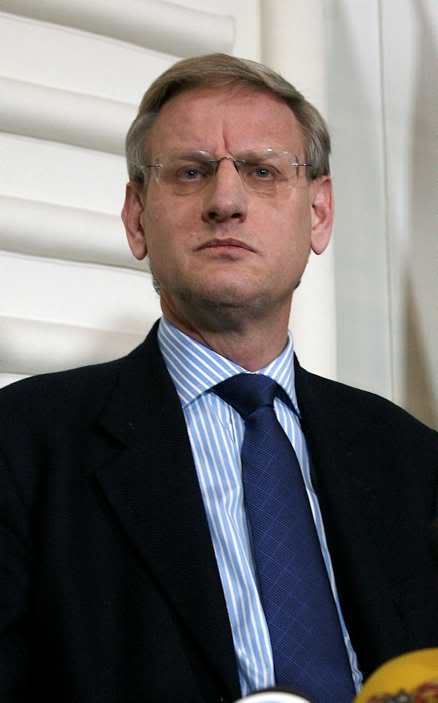 Swedish minister of foreign affairs. interview / министр иностранных дел Швеции Карл Бильд.

Swedish minister of foreign affairs Carl Bildt:
Whats your take on the fact that there is a possibilitie that Russian gas might be transfered via the pipeline that goes through Sweden, all the way to England?

- I don't care about it. Gas pipeline Nordstream is not going to be passing the teretorial waters of sweden. So that is why we do not care about it.


Ruriktochkase:

And what kind of changes in the policy can we expect if your coalition wins yet again the upcomming elections?


Carl Bildt:

- None. We will continue our strategy for mutually benefitial cooperation with Russia.



Шведский министр иностранных дел Карл Бильд:
А как вы относитесь к тому, что возможно в Швеции будет осуществляться транзит российского газа,
до самой Англии?
- Никак. Газопровод Нордстрим по самой теретории Швеции проходить не будет.
Он будет в её экономической зоне, но не на её территории.
Соответственно мы к этому никак не относимся.

А какие изменения можно будет ожидать в ближайшие 4 года, при победе буржуазной коалиции?
- Никаких. Наша стратегия отношений с Россией направлена на взаимовыгодное сотрудничество.